A New Way to Find Grants
– The California State Library Announces New Tool to Find All State Grant Opportunities –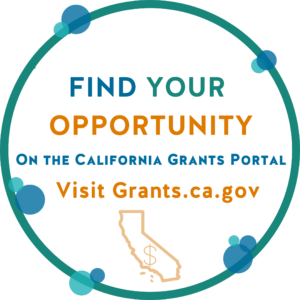 Billions of dollars in state grant opportunities from dozens of state departments and agencies can now be easily accessed at the California Grants Portal – grants.ca.gov – a new tool created by the California State Library. 
All grant and loan opportunities offered on a competitive or first-come basis by California state agencies and departments are now available on this easily searchable website, designed using extensive input from grantseekers and state agencies.
"These grant and loan opportunities exist to help California communities and innovators succeed. The easier we make it to find the right funding, the faster Californians can start putting it to good use," said Greg Lucas, California's state librarian.
Easy searchability is central to the design of the Grants Portal. Over the last 14 months, the State Library team surveyed and met with grantseekers and state grantmakers multiple times to gather ideas and understand challenges.
"We wanted to create a welcoming and valuable tool, and to make sure that happened we partnered with nonprofits, local governments, and business organizations across the state – and our colleagues across dozens of state departments – during each stage of the process," said Anne Neville-Bonilla, director of the California Research Bureau, the division of the State Library responsible for constructing the site.
Grantseekers can filter grant opportunities by using  keywords or selecting from a wide range of categories. The Grants Portal also makes it possible to search by eligible applicant types, including nonprofit organizations, public agencies, businesses, tribal governments, and others. Subscriptions and updates on new grant opportunities for over a dozen categories are also available.  
The California Grants Portal was born out of the Grant Information Act of 2018 (Stats. 2018, Ch. 318; Asm Limón, AB 2252), which required the State Library to build "a centralized location … to find state grant opportunities" by July 1, 2020.
"The new Portal will be of great help to nonprofits, to legislators, and to state agencies. Nonprofits — especially those in marginalized communities — will have better access to funding opportunities," said Jan Masaoka, the chief executive officer of the California Association of Nonprofits.
"Legislators will have one place they can refer grantseekers to. And state agencies will get applicants from a wider array of geographic areas and different types of communities. We're thrilled to have worked with Assemblymember  Monique Limón on the bill and the outstanding staff at the State Library on the development of this innovative project," Masaoka said.  
Over the course of the project the State Library's team heard from more than 1,000 grantseekers through surveys and online sessions and met with more than 120 state staff involved in grantmaking through one-on-one meetings and cross-department collaboration sessions.
"The State Library will continue to build on this website as we learn more about grantseeker and grantmaker needs. We know this is just the beginning," said Shivani Bose-Varela, the State Library's project manager for the Grants Portal.  
The Grants Portal's data is also accessible via an API and a csv on data.ca.gov. It is updated every 24 hours.
"Our goal is to make this information available in any way our stakeholders need – and to make it easier for anyone to analyze the data we have," added Neville-Bonilla.  
As of this morning, grantseekers can find over 100 grants and more than $17 billion  in available funding. Visit the California Grants Portal at grants.ca.gov. 
Contact the Grants Portal Team at CAGrantsPortal@library.ca.gov with any questions.
Published on 7/15/2020